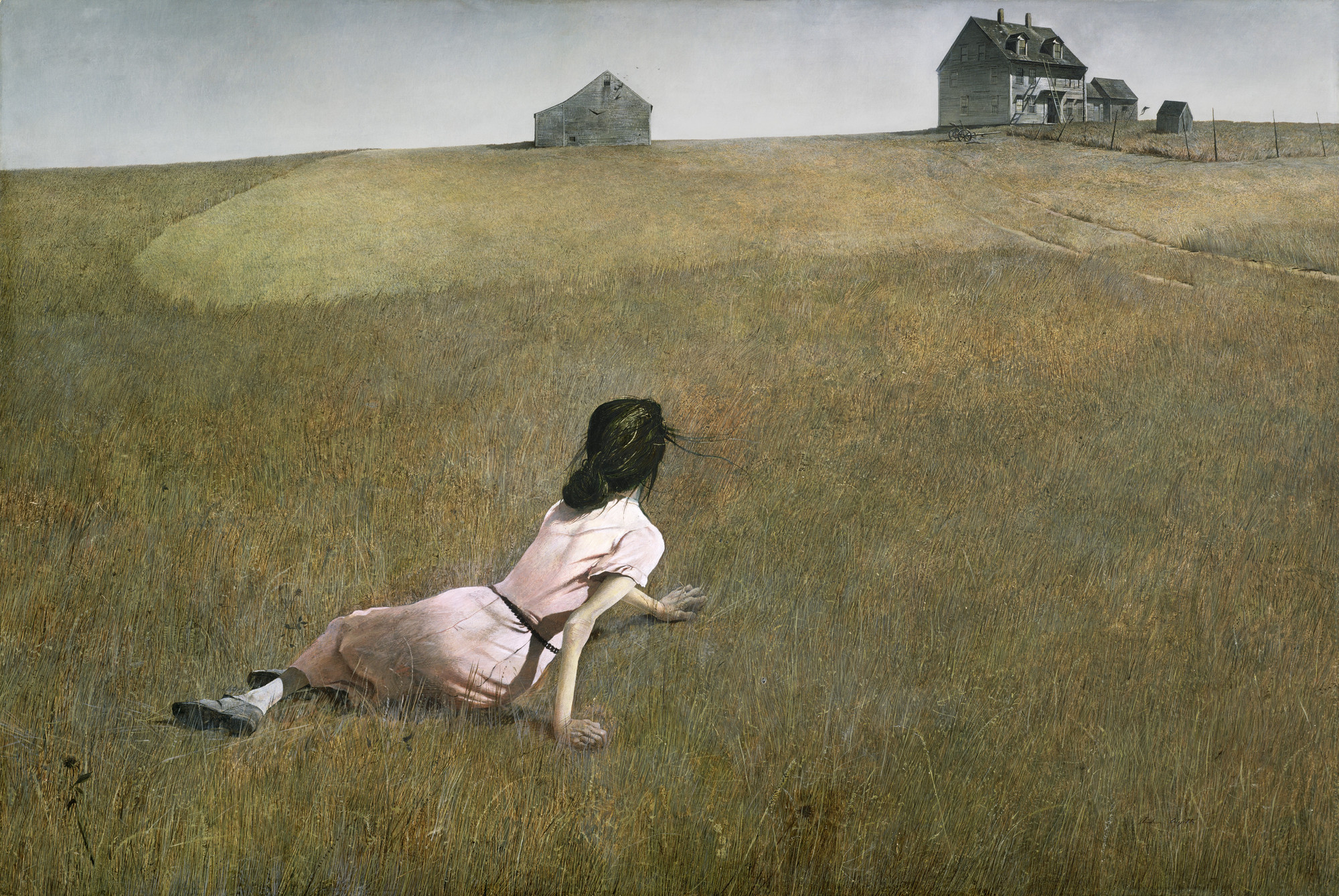 Andrew Wyeth, Christina's World, a painting so famous that it was on the show That Girl…
I consider this stuff archetypical – this, and Arles, Water Lilies, Pollack, Dali, fauvism, Matisse, LeGere, the cutouts…these were all this my 11th grade art teacher had on the walls. I imitated lots of that stuff, especially expressionism, along with more cultural things (like The Saint and tie dye) on t-shirts. I enjoyed that class so much – she made me work in the unoccupied part of the class because I was throwing paint around, getting it on other people…
In 12th grade, I had an older man who graded strictly on technique and I didn't do too well. I was doing things like cutting the boards in odd shapes and pasting cardboard figure cutouts onto watercolors. I would spend my free period with my old teacher, help her and participate and like that better. Also, a friend was in that class. In my regular class though, I sat with like a Breakfast Club of assorted characters; the kid who was in some of the same nerd circles as I was and could draw perfectly Chuck Close photos almost; a twitchy 10th grader whose brother blew up a desk with an M80 when we were in 6th grade; a rough but kind of hot spitfire girl in a 70s blue eyeshadow porn star kind of way; a kind of precious red head who drew lots of flowers and ponies but ever though we were in classes together forever turned out to be interesting and intelligent and last by not least: an almost mutual crush friend. I think my other friend was in that class, too. Anyway, they all liked my stuff way more than the teacher and I think even appreciated the experimental nature of what I was doing. Not experimental to be weird but going to an uncomfortable place and trying to "solve the problem" and make something out of it. That's my connection to what I do now.
At community college, I took a design class and did well, discovered all the great stuff for sale in art stores, but I'd say by the mid-80s, I thought I had it all figured out and that people like Dali were the products of some kind of class war, based on what the Dadaists said. This just made me freeze – thinking I knew everything – and I stopped painting. Also, I never saw any of those art class people again, except throwing a counter 30 year reunion with one of them and another guy on the same day as the real reunion.
I think a combination of opening up and appreciating photography as art (while also doing it) as well as a friend of mine who paints figuratively – mostly female comic-like figures – about thirty years later inspired me to find things to paint. I had realized I knew very little about the mechanics of painting – how to hold a brush, how to mix paints, how to draw a straight line. I started drawing basic shapes and hands and figures and even kind of painted one but quickly found more interest in composition and trying different materials and to get there quicker and purer, I began using some of my old expressionist techniques like dripping, throwing and blowing. Lots of the paintings I do now are derived from the shapes and relationships in some of my ordinary photos of trees and ponds. Then I started to go to museums more – partially to learn more about materials but also to kind of meditate near art. I absolutely hate going to museums with other people and I like painting in relative peace.
I think the thing I hate the most in the arts is the kind of in crowd mentality that has lots of rules – digital is bad, have to have a real drummer, no photos of the Grand Canyon, can't use autotune – I think being around that and participating in these rules to help us think we know everything really robbed me from making much much more art and music. I think.